Locating and dismantling entire log and timber frame structures are exciting and favorite parts of our business. True historic treasures, each structure is a unique, hand-made work of art and a part of our American history which is quickly disappearing.  While we may come across many structures that are too dilapidated to restore, there are still some treasures out there that make beautifully restored homes and barns. Many have been upcycled into primary homes, vacation homes, guest cottages, barns, workshops, studios, bed and breakfast lodges and even elaborate playhouses for kids.
Typically, we will locate a building, have it dismantled, tagged and drawn so it can be reassembled exactly as it originally stood. Once rebuilt, the structure will most often have an open floor plan that lends itself to endless possibilities.
Our inventory of log cabins, timber-frame barns and sheds changes regularly. Please contact us if you are looking for something special!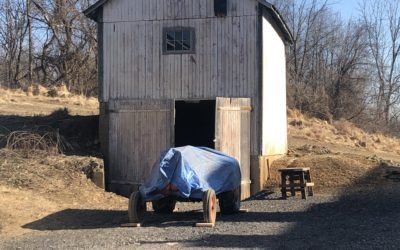 This little structure is something we've not yet seen in all our years of dismantling. This small "bank" barn has a stall underneath for a horse, who walked on a specially designed "horse treadmill" which in turn was attached to a pulley system that drove the...
read more
What's included?
Most often, the price of the structure includes the frame, rafters (when in good condition), joists (if period and in good condition), replacement beams for any damaged logs in the frame as well as the dismantling, tagging and drawing. Please note: drawings are not CAD prints, simply drawings of our tagging system. Please also note that replacement logs, when necessary, are supplied in similar age and species, but need to be refit onsite by the reassembler. Sometimes flooring or doors, windows, etc. are included in the price as well. These extras are on a case by case basis.
Who rebuilds it?
Once the structure has been shipped to your location, you will have drawings for reassembly. Some customers rebuild these themselves, others hire local contractors and others will use one of our crews, when applicable.
What other Materials will I need?
Rafters:
Most original rafters will not pass code and are re-used for aesthetic purposes only. If you want exposed rafters, we can supply a reclaimed set that is rough sawn (perhaps newer than your building, but still antique) and dimensional and to today's codes.
Sill plates: On almost every building, some if not all of the sill plates are rotted and not re-useable, as they were directly on the ground for up to 200 years. Many clients use pressure treated for sill plates and wrap them to match the look of the barn/cabin but with the protection of pressure treated lumber. Should you want period sill plates, we can supply them but they are not included in the price of the structure.
Flooring/Ceiling boards: If you are creating a structure that you want to remain a "period" piece, we offer a wide variety of reclaimed materials ranging from flooring to beams to ceiling boards. Most clients will use reclaimed materials in these projects, although it is not necessary.
Once the frame is standing, standard building materials are acceptable and most general contractors can perform all the work involved in taking this project from the shell to the finished product.
What is the cost?
The cost of these structures ranges from $10K – $50K depending on the size, species, condition and what is included (flooring, siding, etc).  The cost to reassemble on your foundation ranges from $20K – $40K to stand the frame, floor joist systems and rafter systems. The cost to ship can range from $500 locally to $6000 across the United States.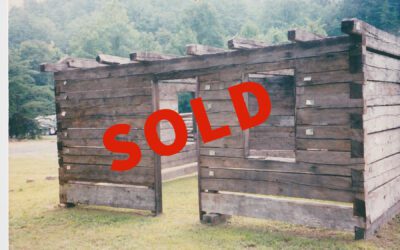 This handsome cabin originally dates to the 1830's. It is in perfect condition. The logs are hand-hewn poplar, measuring 13 - 16" wide on the faces. The cabin is 20' x 20' and is 9'2" high. — Explore the Store — Our inventory of antiques, architectural items, vintage...
read more