Resawn Heart Pine Flooring
Heart Pine is a very popular antique flooring with a great degree of variation from informal knotty character grade to the very formal select grade. Heart pine floors are resawn from reclaimed wood beams and are not original, walked–upon floors. The term refers to the heartwood of the longleaf pine tree. Longleaf Pine is also known as Southern Yellow Pine, Longleaf Yellow Pine and, in the past, Pitch Pine.
Heart pine wood is the non-living center of the tree trunk, while the sapwood is the outer living layer of the tree. Heart Pine floors can be all heart wood, all sapwood or a combination. The amount of heart vs. sap wood creates the possible variations. Heartwood has tight grains, sap wood has loose grains.
It's important to discuss our grading classifications before deciding what type of heart pine floor you want. The higher the grade (no knots, nail holes, tight grains, etc), the narrower and shorter the boards will become as we cut out all of the imperfections. Widths range from 2″ to 11.5."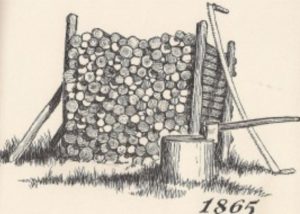 "The heft and feel of a well-worn handle,
The sight of shavings that curl from a blade;
The logs in the woodpile, the sentiment of huge
beams in an old-fashioned house;
The smell of fresh cut timbers and the pungent
fragrance of burning leaves;
The crackle of kindling and the hiss of burning logs.
Abundant to all the needs of man, how poor the world would be without wood"
-Everard Hinrichs
- or use the email form -