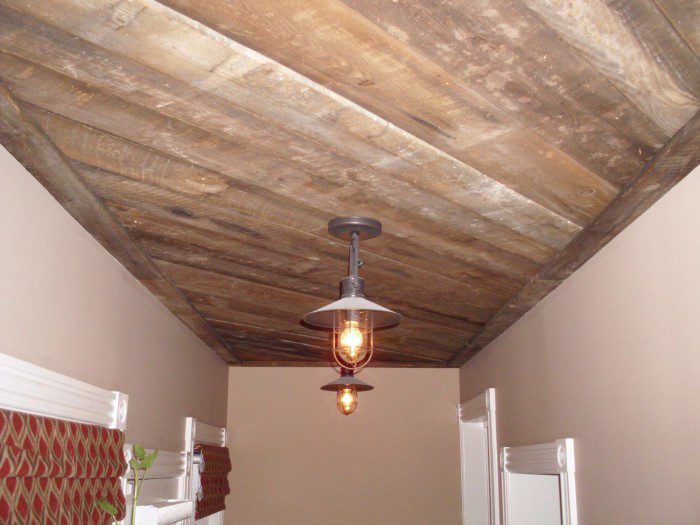 Reclaimed barn siding has many applications from being re-used as exterior siding, interior paneling and "brownboard" (the backs of siding) for exposed roofs and ceilings.  When the backside is used on a ceiling or a wall, it is as if you are in a barn looking at the original ceiling or walls.  Brownboard can also be interior boards in a barn such as loft flooring or den walls.  Whatever the origin, brownboard refers to the unweathered, unpainted side of a piece of barnwood.
Specifications
Species: Typically pine or hemlock
Width: Random 5-12″
Length: Random 4-14′
Thickness: 3/4″-4/4″
Interior applications include:
This material can be run horizontally or vertically.  If run horizontally, it must be milled to like widths, so you can create even rows when installing.  If run vertically, random widths can be used.  In either direction, milling the back is optional.  Milling the back of the board will create a more even appearance.  If not milled, we do supply material all from the same "batch" of siding, so the thickness variations do not bother most people.  Without milling, there is a more primitive look and a less than perfect seam.  There is an additional cost to mill the backs.  The cost is higher for horizontal and in order to price your job, we would need to know the specifics of the order and how many widths you would need.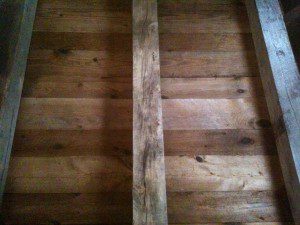 Nautical Wood as Brownboard
Another option for exposed ceilings and walls is to use the backs of nautical wood rather than barnwood.  It  comes only in 6″ or 8″ widths and does not have quite the depth of color, but is an economical, reclaimed alternative.  When milled on the fronts to create an even surface, these boards finish at 5/8″ thick.