Ringo Hills Barn
This structure is no longer available.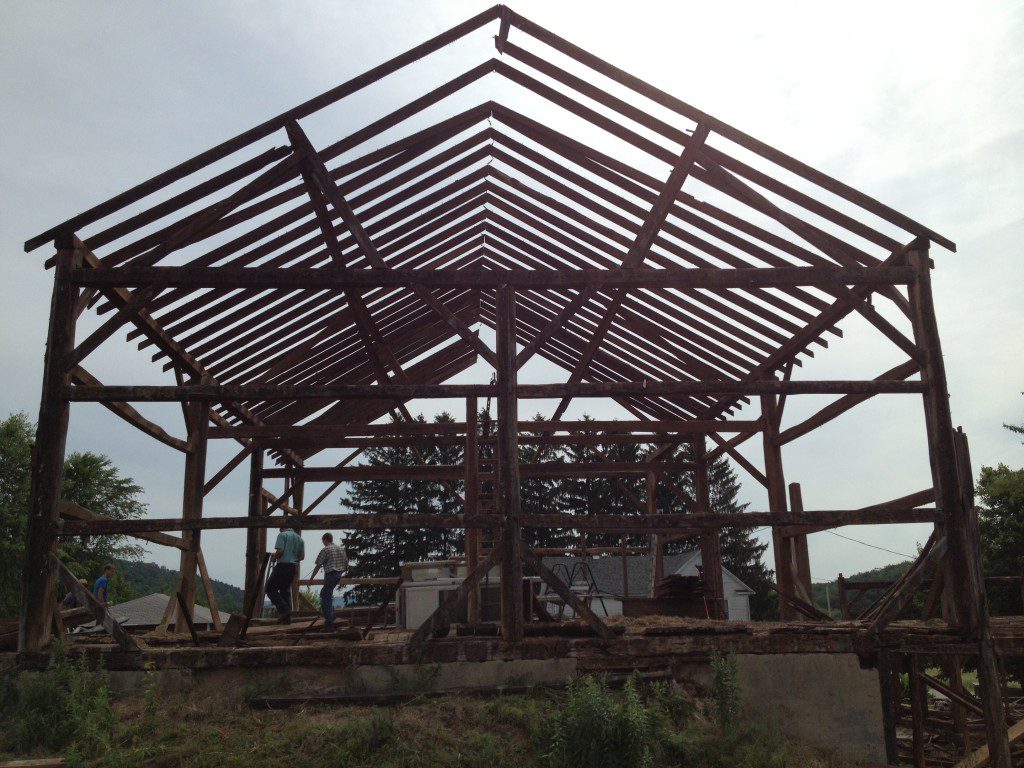 This beautiful barn stands near Ringtown, Pa. in the heart of Pennsylvania Dutch Country.  It dates to the late 1800's and is American Chestnut, a nearly extinct wood species that was once a vital part of our history…..
Once an important hardwood timber tree, the American chestnut is highly susceptible to the chestnut blight, caused by an Asian bark fungus accidentally introduced into North America on imported Asiatic chestnut trees. The disease was first discovered on American chestnut trees in what was then the New York Zoological Park, now known as the Bronx Zoo, in 1904.   While Chinese chestnut evolved with the blight and developed a strong resistance, the American chestnut had little resistance. The  fungus spread 50 mi a year and in a few decades killed nearly three billion American chestnut trees.   The number of large surviving over 60 cm (24 in) in diameter within the tree's former range is estimated to be less than 100!
The frame measures 34 ft wide by 56 ft long with three bays (measuring appx. 19 ft, 16 ft and 19 ft).  It is a combination of sawn and hewn chestnut beams and is in very good condition.  The exterior wall height is 15 ft. and the height to the peak of the roof is 25 ft.  Inside, the height to the top plate of each bent is 14 ft.  If a loft were added upstairs, this would be an ideal location, creating high downstairs ceiling heights and another 11 ft from the second floor to the peak upstairs.  The rafters are not in exceptional condition and are not included in the price.  However, the rest of the frame is in exceptional condition, needing only one replacement beam.