Reedville Barn
This structure is no longer available.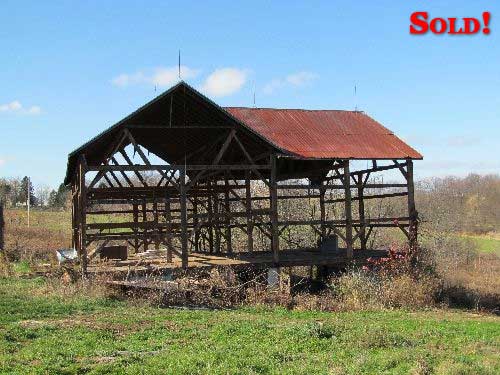 This barn stands in central Pa and dates to the turn of the last century. It is a sawn hemlock barn that is an impeccable, clean crisp frame. Most of the frame is vertically sawn and the entire frame is mortised and tenoned with wooden pegs. The uprights measure approximately 7.5" by 8".
There is a main barn with an addition that appears to be added not much later than the original barn was built. The main frame measures 48 ft long by 26 ft wide. There are four bays, measuring all measuring approximately 11-11.5 ft wide. The addition, situated on the 50 ft side of the main barn is 32 ft long by 22 ft. deep. This part of the buildings has no bents or interior walls of any kind and is wide open.
The height to the the peak of the barn is approximately 24' and the side wall height is appx.15 ft. high. A second floor loft could be situated on the top cross-tie of each bent, creating a first floor with a height of 11.5 ft and a second floor with a height of 12.5 ft at the peak.
This building is absolutely ideal for a home conversion, offering up to 4,000 sq ft. of space. The main barn and addition do not have to be reassembled as one unit. If you wanted to create two separate structures, the only material needed would be posts for one side of the addition.