Myersville Log Cabin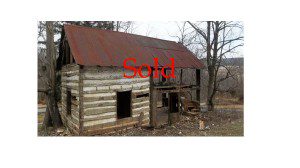 This three sided log cabin is part of a larger log/timber structure on a farm in central Maryland.  It is a combination of oak and chestnut, is hand hewn and dates to the mid 1800's.  While the timber frame is not in good condition, the log part of the building is still in very good condition and would be ideal as an addition to an existing building or as a self standing building if you wanted to add a fourth wall.    It is a one and one half story building that measures 12 by 12 ft.  The inside ceiling height downstairs is 82″.  The height in the center of the second floor is appx. 9.5 ft.  If a knee wall were added, it would be appx. 43″ high.  The original floor joists for the second floor are sawn 2 by 6 oak joists and both those joists and the original rafters are included.
The building is for sale as-is, with logs for three sides, rafters and floor joists.  However, if you wanted a fourth wall, we could supply similar logs to add a fourth wall.  Or, if you wanted to recreate a timber frame building/log addition, we'd be happy to price hewn material for an addition if you sent measurements of the structure you'd like to create.