Lapp's Cabin
This Structure is no longer available.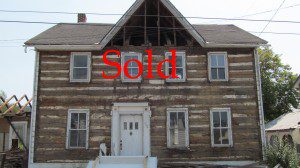 We have an early, (1804) hand hewn oak log cabin available that is one of the most amazing we've encountered for several reasons.   The condition and the size of the cabin are unsurpassed.  It is a full two story cabin measuring 24 by 30 ft. and is excellent condition.  It stood in Rehbersburg, PA in what is known as "Brush Valley" until just last week.
As impressive as the building is its' history.  We heard stories of the early history and while we in Brush Valley dismantling, we dug up some amazing, documented history.  Lapp's cabin was built in 1804-1805 by Anthony Bierly and was the first dwelling in the valley!  It's original use was the areas first (and only) church.  It had no heat and the congregation warmed themselves by a fire outside before and after services.  The only other building nearby at that time was the tavern which sometimes drew the congregation there!  This building was used as the Valleys church until 1822 when a brick church was built and it was moved down the road to 112 East Main St (where it stood until last week).  In 1876, the original brick church was torn down and The Reformed Church was built, which still stands there today.
The ceiling heights are approximately 8′ downstairs, 7′ upstairs and 7′ in the attic (at the peak).
It does have some of the original flooring and wall boards and all the original rafters and floor joists, which are all included in the price.  While some of the floors are painted, they are original wide planks and the paint could be planed of to expose the beautiful original floors.
Large, but not large enough?  Although this building is considered very large for an early log cabin, it is still small by today's standards.  We have a one story cabin that measures 30 by 32 and could be added perpendicular to this structure to create a large, vaulted ceiling great room.  To read more about that cabin, click here.
---