German Cabin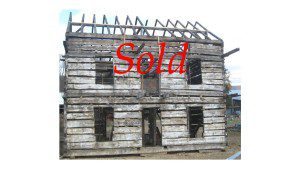 Some of you may remember this cabin; 24 by 30 ft. three story cabin (with full story attic that a grown man can stand tall in). High ceilings.
We have a very large and unique cabin available.  This cabin is the second largest we have come across in our 15 yrs experience, measuring 25 by 30 ft. It is a full two stories with an attic that is nearly 11 ft at the peak, so there is ample room for a bedroom on the third floor. The cabin is hand hewn oak with dovetail corners and extremely wide logs, measuring an average of 10-12″ and up to 17″! Another very rare feature is that the ceilings are unusually high for a cabin of this age (early 1800′s and possibly late 1700′s); measuring 8.5 ft downstairs and 7.5 ft upstairs. The cabin was stood up here in PA to make repairs and adjustments (the adjustments were not made, as the customer changed their plans) and is still standing for another week or so. All of the structural repairs this cabin needs have been made and it ready to be rebuilt. You'll see in the photos that there are beams that come out the front of the building. Those were the floor and ceiling joists to a second story porch. The can be cut off, but we kept them in the event that someone did want to build a second floor. There was also several hundred ft of the original flooring that was able to be salvaged as well as the porch columns.
Our recommendations for aesthetic purposes (which is what we were set to do for the original customer) are to:
Fill in the two upstairs doors
Fill in the two center doors on the front (north wall)
Fill in the fireplace opening on the east wall
Adjust windows on the west side to make them even heights
There are also other possibilities such as veneers and splicing logs, all of which are possible at different price points.