Berger Barn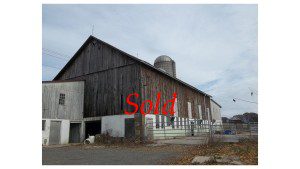 The Berger Barn is one of the most exceptional barn frames we've encountered.  A traditional, Pennsylvania bank barn, it is a hand hewn oak frame with an overall footprint of 40 ft by 85 ft!  The barn was built in 1850 by George Berger and the history of the land is as interesting as the barn.
It is a five bay barn with evenly spaced bents and large bays ( 16.5, 17.1, 16.1, 16.1 and 16.27.)  The wall height is 14'8″ and the height to the peak is 28 ft.  The uprights measure approximately 8.5″ by 6″ and the outside wall beams measure 12.5″ by 6.5″!   The original date stone, marked 1850 is intact and included.
The barn has been in the Berger family since 1850!  The house on the property dates to 1753.  It is claimed by the current owners that the earliest records show taxes for the property being paid to the British and  that there are also records of numbers of chickens on property (used to assess property value in the 1700's).